Mini Blowers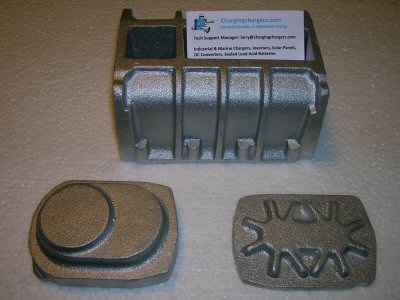 This is the novelty piece for hot rodders, speed shops, and auto shop owners. It is a scale version of the venerable GMC 6-71 blower, cast from aluminum in 3 pieces, available in cast finish, and hopefully soon, a polished finish. It serves as a business card holder, pen/pencil holder, and conversation piece. It also won't blow off your desk or counter. These copyrighted artistic pieces are designed, pattern built, cast, and assembled in the USA. The picture is the first sample from the matchplate, not the finished product.
NOTE: JANUARY 2011
THE PATTERN IS COMPLETE AND MATCHPLATE PRODUCTION IS COMMENCING. WE SHOULD HAVE PRODUCTION UNITS IN SPRING OF THIS YEAR (2011). TO RESERVE ONE OF THE FIRST UNITS, OR ASK QUESTIONS, CALL OR EMAIL YOUR INFO TO KYLE, AND HE WILL CONTACT YOU.
NOTE: APRIL 2011
THE MATCHPLATE IS COMPLETE AND PRODUCTION IS COMMENCING. WE HAVE PRODUCTION UNITS IN HOUSE AND ARE SETTING UP FOR MACHINING AND WORKING OUT FINISHES. PICTURES OF UNITS WITH VARIOUS FINISHES WILL BE UP SHORTLY.
NOTE: MAY 26, 2011
YOU CAN ORDER THE CAST FINISH MINI BLOWER HERE. WE ARE FINISHING THE FIRST BATCH AND SHOULD BE READY TO SHIP WHAT ISN'T ALREADY SPOKEN FOR IN A FEW DAYS. THE SECOND BATCH SHOULD BE ARRIVING FROM THE FOUNDRY SHORTLY. SOME POLISHED VERSIONS WILL BE AVAILABLE REAL SOON, AND HOPEFULLY SOME POWDER COATED VERSIONS AS WELL.
NOTE: FEBRUARY 2013
THE APRIL 2013 EDITION OF HOT ROD© MAGAZINE HAS AN ARTICLE TITLED "THE STAFF'S STUFF", FEATURING, AMONG OTHER THINGS, OUR MINI BLOWER. KYLE HAD SENT ONE TO THE EDITOR, AS BELATED APPRECIATION FOR PUBLISHING A LETTER IN THE JULY 2005 ISSUE ABOUT THE PASSING OF HIS GRANDFATHER, GIL. WE APPRECIATE BEING INCLUDED IN THIS PREMIER AUTOMOTIVE PUBLICATION.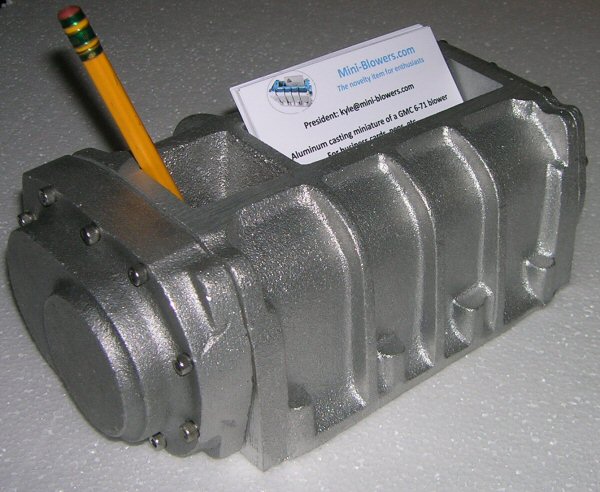 The "little blower" project has been going on since the early 90's, when the original pattern and copyrighting was done. The idea grew from all the blower cases we were polishing for Dyers Machine Service. Dyers shipped 6-71, V6-71, and some 4-71 cases, end plates, drives, and manifolds from Chicago out to Oregon, because of the quality work done in our shop. Eventually, some 8-71s showed up, both modified Blower Drive Service (BDS) and Dyers own castings. We had done some blower pieces for Weiand, when we were in Los Angeles. As the son of a hot rodder, and builder of cars himself, there just was the mystique that surrounded GMC style blowers for Larry, and having blower cases and manifolds laying around all the time (sometimes 20 at a time) added to it. Fortunately or unfortunately this rubbed off on Kyle, Larry's son, who took over the project in January of 2011.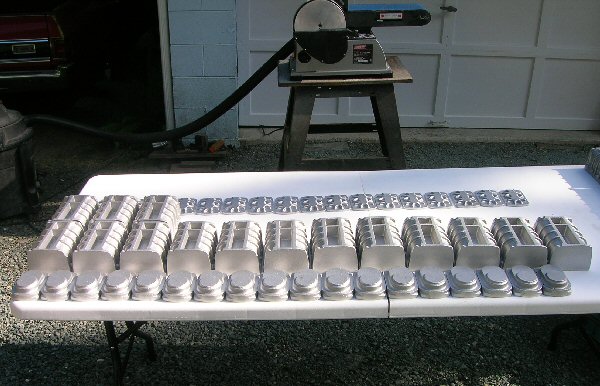 In 1991, a foundry in Medford, Oregon ran a newspaper article to promote their specialization in lost foam casting. This prompted a visit to discuss the little blower idea and viable casting options. The foundry owner was a car guy as well, and said if Larry built a pattern, he would work with it. We found an original GMC 6-71 blower, still on the diesel engine, which was measured, and scaled down, to keep the proportions correct. Well, a pattern was built, and attempts were made to do a lost wax casting, and a lost foam mold was in process of being built. One sand cast prototype was done (see below), before the foundry moved. Lessons learned from the mold pulls and sand casting prompted revisions and finally a totally new pattern design, which cuts casting thickness (and therefore weight), and was actually easier to incorporate the draft so the pattern would pull from a mold or sand. There have been long periods of inactivity in this endeavor, but there are a ton of hours involved.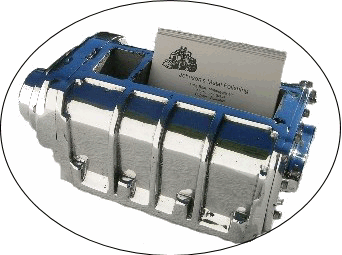 We have built flasks, and a propane fired burner with adjustments and blower fan, to possibly cast some ourselves, but the majority of the casting will be done by a local foundry. We're looking into having a match plate built, so we have the facility to do quantities at a time. The finish work and assembly is done here in our shop. Everyone (rodder) who has seen the prototype said they wanted one when production commenced. Now is that time. Picture at the right is the first and only prototype from 1992.
Back to the 50s, 2009 Grants Pass, Oregon